The following scene from my "Pamela" occurs about half-way through the first volume. Pamela Andrews is about to depart the Bedfordshire estate, where she already had so many trials and vexations, in a chariot with four horses. She is grateful that she may finally be allowed to see her dear mother and father on their farm; but little does she realize that her coachman was secretly instructed to drop her off at a certain estate in Lincolnshire instead, which estate, as it happens, is owned by Pamela's wretched tormentor and master, Mr.B.
Notice Mr.B. sulking in the window above the coachman--he never even asked to see her off, but Pamela did curtsey three times to him very low, and prayed for him with her hands lifted up. And he bowed his head to her in return. Notice the good housekeeper, Mrs. Jervis, and the other maids, in the doorway bidding my poor Pamela adieu.
And in I stepped, and was ready to burst with grief; and could only, till Robin began to drive, wave my white handkerchief to them, wet with my tears: and, at last, away he drove, Jehu-like, as they say, out of the court-yard. And I too soon found I had cause for greater and deeper grief.
Here is the painting of the scene done by Mr.Joseph Highmore.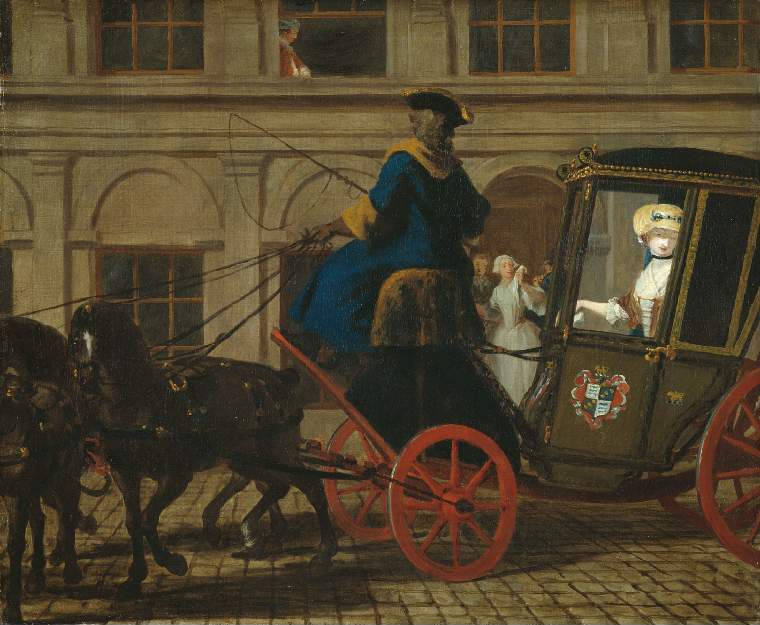 Pamela Setting out for her Father's House